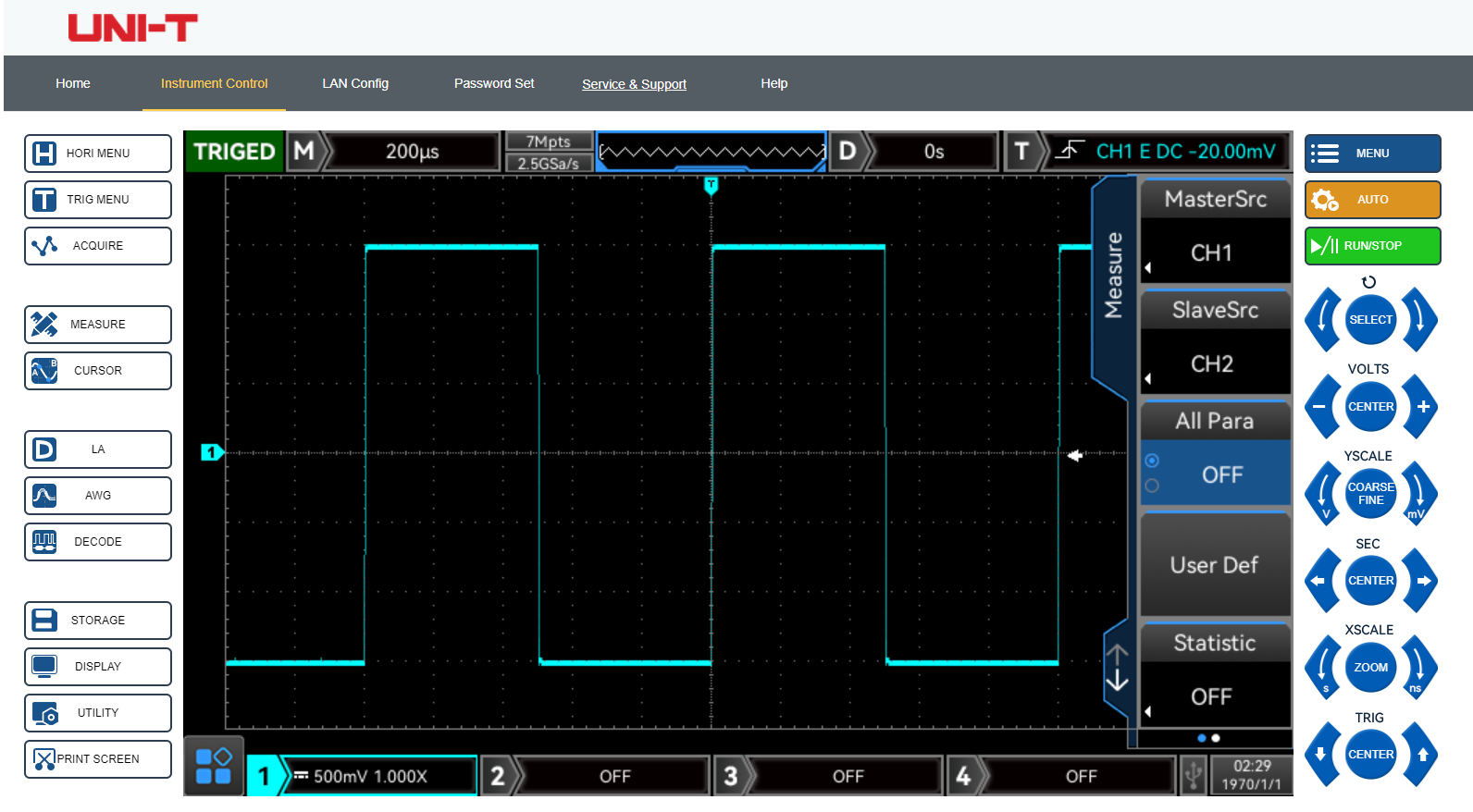 Web Control
Embedded with Web Server, you can remotely control the instrument, observe waveforms, and obtain measurement results through a browser, which can meet the application requirements of special environments such as high pressure and high temperature. Cross-platform control can be realized without installing driver software and host computer software. MSO/UPO3000E series supports PC and mobile phone two styles of web page layout and touch operation, making it easier and more convenient to use.
Logic Analysis Probe
Provides two 8-channel splitters and simplifies connection to the device under test. When connecting with square pins, UT-M15 can be directly connected with 8X2 square pin headers with pins of 2.54mm. The UT-M15 offers excellent electrical characteristics with an input impedance of 101kΩ and a capacitive load of only 9.0pF.
LA Logic Analyzer
Can be used for parallel bus, protocol decoding and timing measurements.
Bode plot
Can be used for loop analysis. It is a critical measurement often used to characterize the frequency response (gain, phase, and frequency) of today's various electronic designs, including passive filters, amplifier circuits, and negative feedback networks for switch-mode power supplies.
AWG Function Arbitrary Waveform Generator
The built-in dual-channel function arbitrary waveform generator can output sine wave, square wave, ramp wave, pulse wave, arbitrary wave, noise and DC. The maximum frequency output of sine wave is 50MHz.
Area trigger
The area trigger can be used in combination with the existing basic trigger, advanced trigger and protocol trigger to complete the capture of various occasional and complex characteristic signals.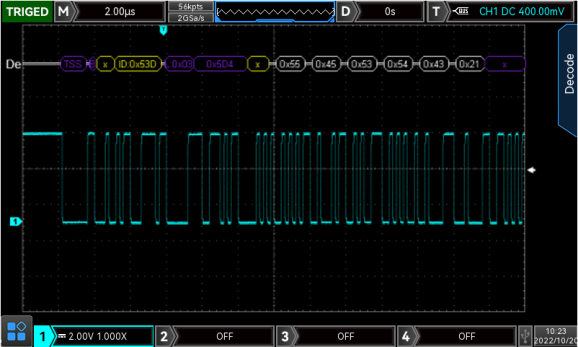 Full memory hardware decoding
The decoding speed is greatly improved. The full-memory hardware decoding under the deep storage of 70Mpts, the decoding time is increased from more than ten seconds to milliseconds, which realizes real-time decoding and greatly improves the user's problem diagnosis efficiency. The recorded waveform also supports full-memory hardware real-time decoding.
Maximum memory depth up to 250Mpts
The oscilloscope can maintain a high sampling rate in a wider time base range, while taking into account the overall and details of the waveform, greatly improving the capture rate of abnormal waveforms.
Ultra high capture rate
Using innovative digital signal parallel processing technology, it can reach an ultra-high capture rate of 200,000wfms/s in normal sampling and 1,000,000 wfms/s in Fast Acquire mode. Efficient capture of occasional signals.
XY mode
XY mode cursor measurement can quickly measure the phase difference between two signals.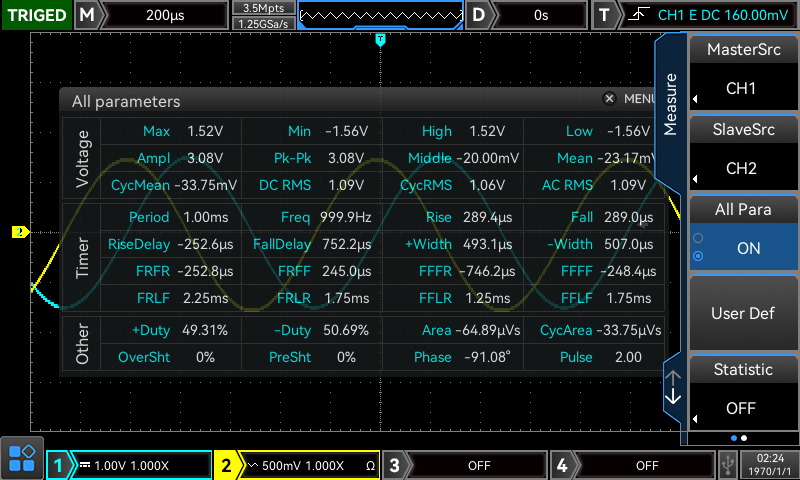 Rich measurement functions
Automatic parameter measurement up to 36 kinds. Provides a variety of automatic measurement parameters while you measure waveforms, greatly improving your measurement efficiency.
Brand new interactive experience
The 8-inch touch screen design supports a variety of gesture operations, such as click, slide, zoom, edit, drag, etc. Make the measurement action smoother and more convenient, and users can master it more quickly. At the same time, the traditional button and knob operation is still retained, and the interactive experience is optimized to the greatest extent.
Rich trigger function
With a wealth of advanced trigger and bus trigger functions, it can help users accurately and quickly capture and display the signal of interest.